/roʊˈdeɪoʊ/ Technology

To "see" and "respond" to RPG games, /roʊˈdeɪoʊ/ uses NVIDIA Compute Unified Device Architecture accelerated YOLO real-time object detection running on a Darknet neural network framework with Dark Flow tensor flow interfacing with a custom Deep-Q learning module.
Hardware:
Motherboard: Rog Crosshair Viii Dark Hero
Processor: AMD Ryzen 9 5950X 16-core 32-Thread
GPUs: (x2) EVGA 24G-P5-3975-KR GeForce RTX 3090 XC3 Ultra
Memory: G.SKILL 64GB (2 x 32GB) Trident Z Neo Series DDR4 PC4-21300 2666 MHz 288-Pin Desktop Memory Model F4-2666C18D-64GTZN
Power supply: Corsair Professional Series AX 1200 Watt Digital ATX/EPS Modular 80 PLUS Platinum (AX1200i)
Images: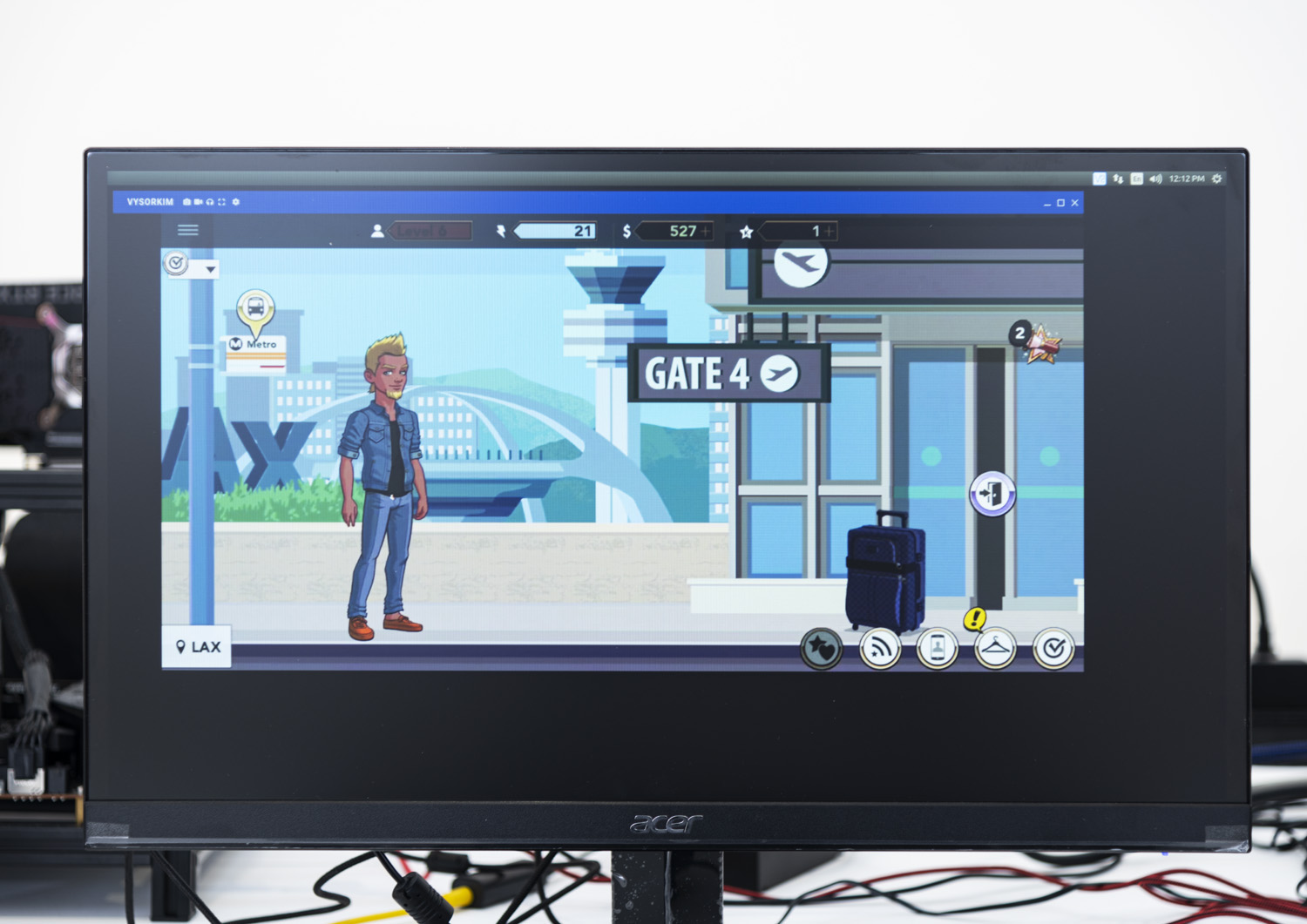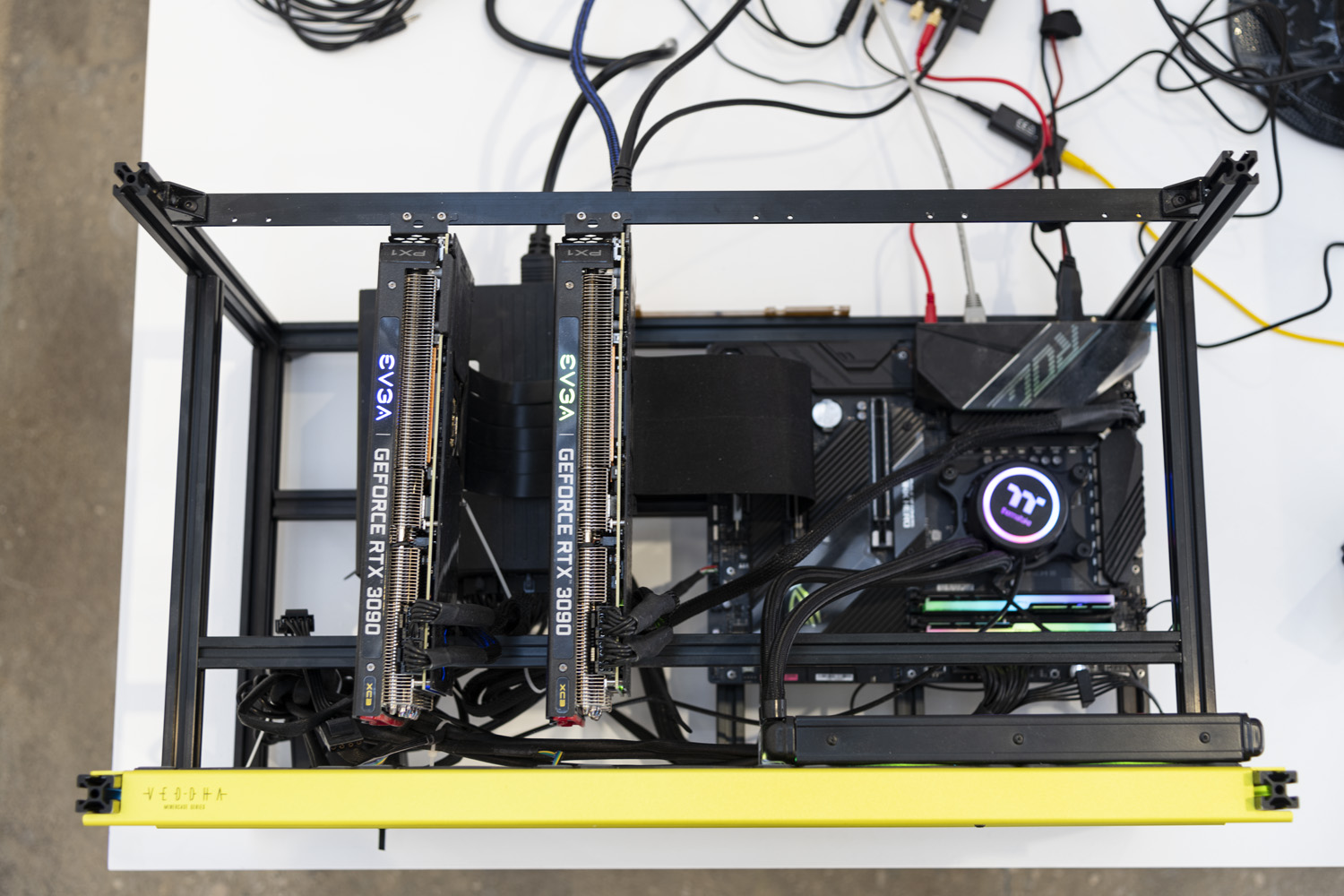 Process:
Maintenace Monitor: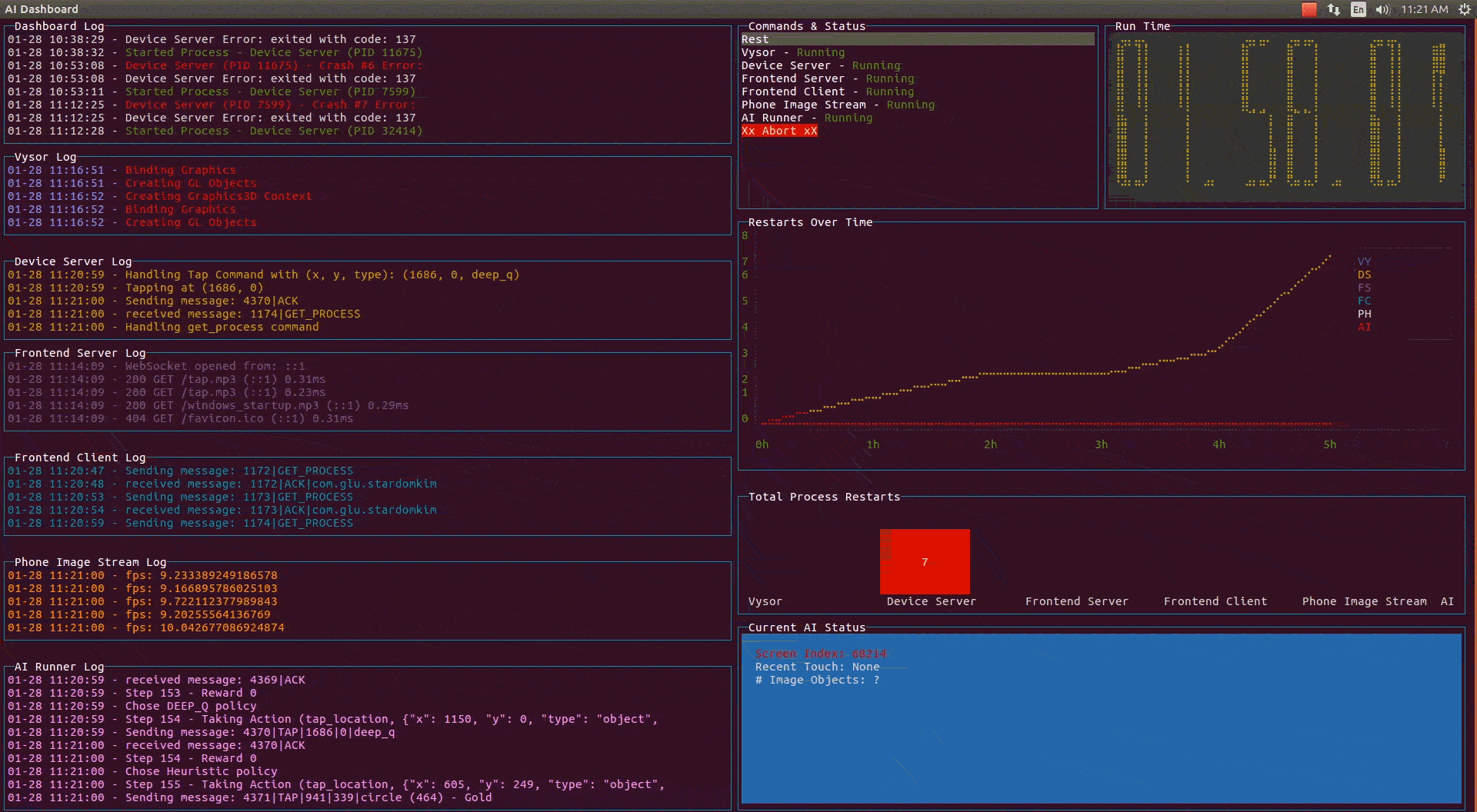 LED Screen:
Visuals:
/roʊˈdeɪoʊ/'s main visuals — outputted on its main display — are the graphics of the RPG itself, an array of colored boxes YOLO uses to identify what it encounters, and scrolling lines of emoji code that correspond to the automated progress of /roʊˈdeɪoʊ/ on both the left and right sides of the screen.
The right column is the /roʊˈdeɪoʊ/ brain. /roʊˈdeɪoʊ/ can think in 3 different ways — Heuristic, AI, and random. The right column scrolls up from the bottom. You can see each "thought", and which brain /roʊˈdeɪoʊ/ has decided to use. The most important thing to know is the following brains: Heuristic 🤔👉💻, AI 🤔👉🧠, & random 🤔👉🏄🏼‍♂️.
The left column shows the actions /roʊˈdeɪoʊ/ is taking, and shows one action at a time. The data shows where it will tap, or scroll, and on what object. The most important thing to know here is the actions: Tap🚰, Double tap 🚰🚰, and scroll 👀


Right side display:


Emoji

🕐🕑🕒
8️⃣6️⃣6️⃣ 🚰 2️⃣5️⃣5️⃣ 🌐
4️⃣8️⃣5️⃣
🤞😘⚡️📲🔜
8️⃣6️⃣6️⃣ 👌🤩
📲⚡️🤪👌🎶
🥇 3️⃣0️⃣1️⃣
🚶‍♂️6️⃣1️⃣ ➡️8️⃣7️⃣1️⃣⬅️
🤔👉💻

Description

Wait
Tell /roʊˈdeɪoʊ/ to tap at 255,485
Sending message to device
Message sent
Device got the message
Reward = 301 points
Step 61 since last restart, 871 total
Chose Heuristic policy for next move


Left side display:


Emoji

🕹 6️⃣2️⃣ 🚰🚰
🔜
🔜 ❎ 1️⃣2️⃣5️⃣6️⃣
🔜 💹 4️⃣8️⃣2️⃣
🔜 🔤 "object",
🔜 🔠 "Circle #7",
🔜 🖼
🔜🔜
🔜🔜 🚬 null,
🔜🔜⚰️ "Circle #7",
🔜🔜 🔠 "circle",
🔜🔜 🟪
🔜🔜🔜
🔜🔜🔜 1️⃣2️⃣1️⃣7️⃣
🔜🔜🔜 4️⃣4️⃣3️⃣
🔜🔜🔜 7️⃣8️⃣
🔜🔜🔜 7️⃣8️⃣
🔜🔜🔜
🔜🔜
🔜




Description

Action #62: double_tap_location
{
"x": 1256,
"y": 482,
"type": "object",
"object_type": "Circle #7",
"img_obj":
{
"confidence": null,
"label": "Circle #7",
"object_type": "circle",
"rect":
[
1217,
443,
78,
78
]
}


Source code:
https://github.com/coryarcangel/rodeo-lets-play & follow @rodeocomputer for updates 😜

Thx:
Special thanks to the following technoloy used in /roʊˈdeɪoʊ/